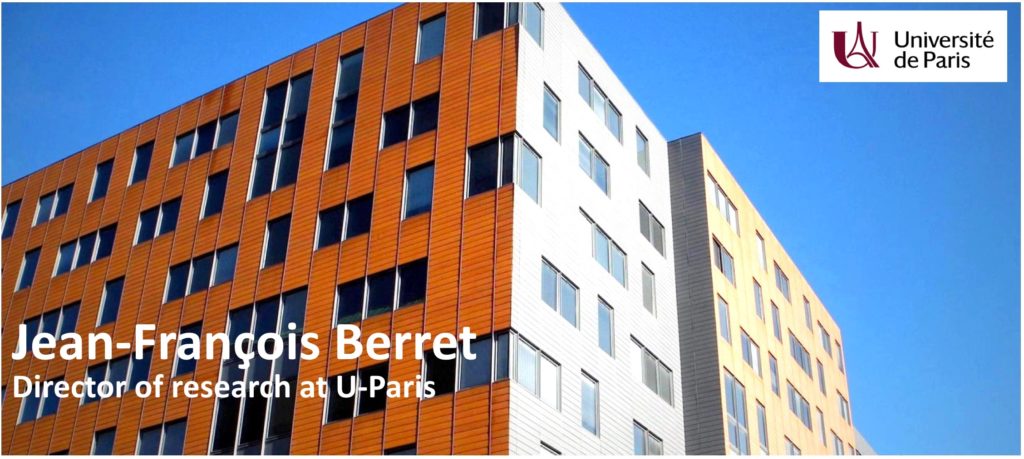 LATEST NEWS
SEPTEMBER 2022 – Keynote lecture at the 51st General Assembly of the German Colloid Society Berlin
J.-F. Berret gave a keynote lecture at the 51st General Assembly of the German Colloid Society in Berlin, Germany, entitled « Magnetic rotational spectroscopy : a novel active microrheology technique for colloids and gels » on Thursday 29 September 2022. The presentation can be uploaded here.
OCTOBER 2021 – Post-doc opening position at Matière et Systèmes Complexes laboratory
The goal of the project « Stroke thrombolysis with r-tPA improved by cerium oxide nanoparticles » is to develop anti-oxidant nanoparticles of cerium oxide coated with innovative polymers and biomolecules for neuronal and vascular protection following stroke. The post-doctoral position is funded from the Agence Nationale de la Recherche for 24 months, starting November 01, 2021. More details can be found here.
SEPTEMBER 2021 – Keynote at the European Colloid and Interface Society Conference (Athens, Greece)
The Keynote lecture to be given at the European Colloid and Interface Society conference in Athens (Greece) entitled « Effects of Inhaled Nanoparticles on a Lung Surfactant Fluid » will be given on Thursday 9 September 2021 at 1.45 pm in Room A (Crowne Plaza Athens City Center). The presentation can be uploaded here.
AUGUST 2021 – Publication
The review paper with first author Dr. Megan S. Lord and entitled « Redox Active Cerium Oxide Nanoparticles: Current Status and Burning Issues » has been published in Small. A version of the manuscript is available on the arXiv website. The paper is an international collaboration between the Université de Paris (France), the Universities of Sydney and Newcastle (Australia) and the National Institute of Animal Biotechnology in Hyderabad (India).