PROJECTS 202X
CERIUM OXIDE NANOPARTICLES FOR STROKE TREATMENT
LUNG FLUID STRUCTURE AND RHEOLOGY
MICROFLUIDICS APPROACH OF MUCOCILARY CLEARENCE
BIOMECHANICS OF LIVING CELLS
The projects listed in this section can be the subject of M1 or M2 master internships, doctoral thesis or postdoctorate, depending on funding. If you are interested, please contact Jean-François Berret.
Lung fluid structure and rheology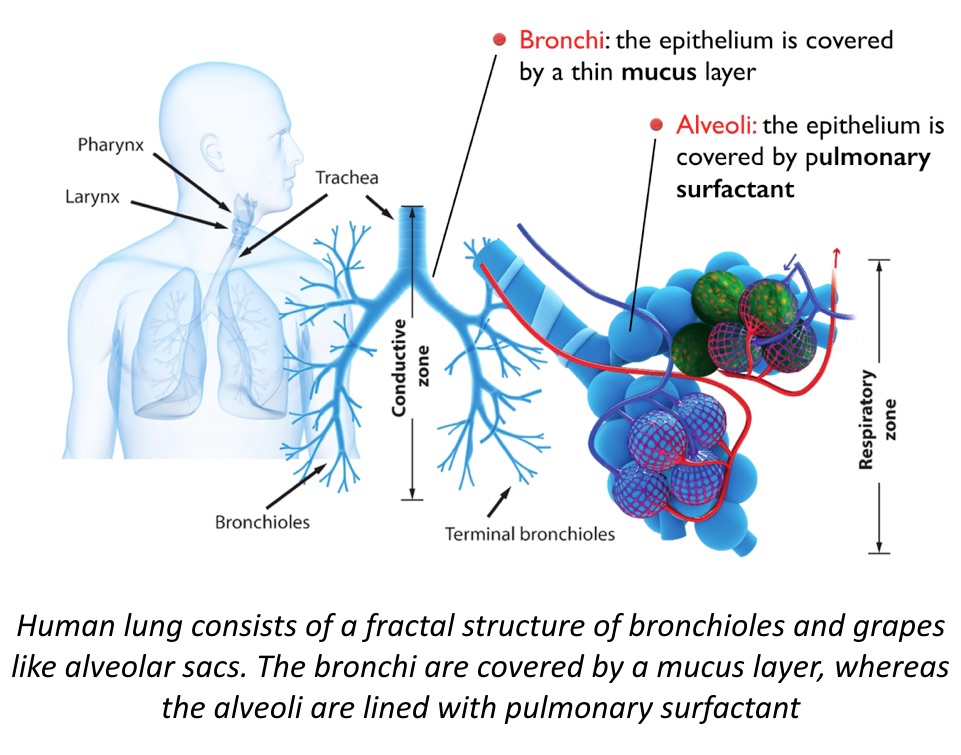 In our group at Matière et Systèmes Complexes (Université de Paris), a long-term project aims at understanding the behavior of inhaled particulate matter at the level of the bronchi and of the alveoli, either for nanomedicine applications or environment related studies. In this project we will study the modification of the lung fluid physical properties by the addition of nano-objects (simulating inhaled particulate matter) known to induce critical phenomena, including vesicular aggregation and respiratory dysfunction.

Beyond structural studies , emphasis will be put on the measure of the viscosity of human mucus (obtained from transplantation surgery) and pulmonary surfactant using an original microrheology set-up. The technique, recently published in Nature Communications is based on the monitoring of magnetic nanowires under rotating field.
A detailed version of the project can be found here.
REFERENCES

L.P.A. Thai, F. Mousseau, E.K. Oikonomou and J.-F. Berret*
On the rheology of pulmonary surfactant: effect of the concentration and consequences for surfactant replacement therapy
Colloids and Surfaces B: Biointerfaces, 178, 337 – 345 (2019)
https://doi.org/10.1016/j.colsurfb.2019.03.020

L.P.A. Thai, F. Mousseau, E.K. Oikonomou, M. Radiom and J.-F. Berret*
Effect of Nanoparticles on the Bulk Shear Viscosity of a Biomimetic Lung Surfactant
ACS Nano 14, 466 – 475 (2020)
https://doi.org/10.1021/acsnano.9b06293