PROJECTS 202X
CERIUM OXIDE NANOPARTICLES FOR STROKE TREATMENT
LUNG FLUID STRUCTURE AND RHEOLOGY
MICROFLUIDICS APPROACH OF MUCOCILARY CLEARENCE
BIOMECHANICS OF LIVING CELLS
The projects listed in this section can be the subject of M1 or M2 master internships, doctoral thesis or postdoctorate, depending on funding. If you are interested, please contact Jean-François Berret.
Cerium oxide nanoparticles for stroke treatment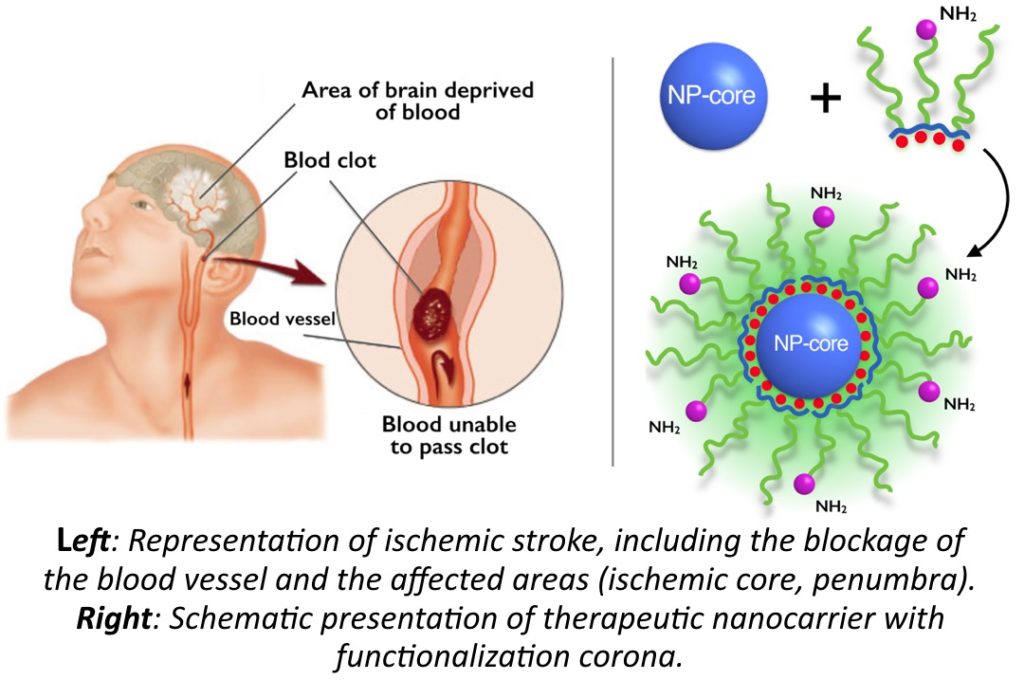 Stroke is a leading cause of death worldwide for which doctors still lack therapeutic strategies. The goal of our project is to develop innovative nanocarriers for in vivo experimentation combining imaging, vascular inflammation detection and oxidative stress reduction. The nanocarriers targeted in this study contain a healing agent (cerium oxide) to alleviate the stroke related biological damages and an efficient contrast agent for imaging. Cerium oxide nanoparticles were shown to display enzymes mimetic and antioxidant properties.
The nanoparticles are functionalized using advanced polymers for targeting the inflamed zones of the brain. Polymers are synthesized by the company SPECIFIC POLYMERS with whom we have a long-standing collaboration.
A detailed version of the project can be found here.
REFERENCES
V. Baldim, A. Graillot, N. Bia, C. Loubat and J.-F. Berret*
Mono- versus multi-phosphonic acid based PEGylated polymers for functionalization and stabilization
of metal (Ce, Fe, Ti, Al) oxide nanoparticles in biological media
Advanced Materials Interfaces 1801814 (2019)
https://doi.org/10.1002/admi.201801814
https://arxiv.org/abs/1902.07172

V. Baldim*, F. Bedioui, N. Mignet, I. Margaill and J.-F. Berret*
The enzyme-like catalytic activity of cerium oxide nanoparticles and its dependency on Ce3+ surface area concentration
Nanoscale 10, 6971 – 6980 (2018)
https://doi.org/10.1039/C8NR00325D
https://arxiv.org/abs/1803.01973

L. Qi, A. Sehgal, J.-C. Castaing, J.-P. Chapel*, J. Fresnais, J.-F. Berret, F. Cousin
Redispersible Hybrid Nanopowders: Cerium Oxide Nanoparticle Complexes withPhosphonated-PEG Oligomers
ACS Nano 2, 879 – 888 (2008)
http://arxiv.org/abs/0804.3410

A. Sehgal*, Y. Lalatonne, J.-F. Berret* and M. Morvan
Precipitation-Redispersion of Cerium Oxide Nanoparticles with Poly(Acrylic Acid) : Towards Stable Dispersions
Langmuir 21, 9359 – 9364 (2005)
https://doi.org/10.1021/la0513757
http://arxiv.org/abs/cond-mat/0507238